Configure Tax Rate
If you have a single general tax rate, update Adjust General Tax Rate.
2. If you have multiple tax rates, e.g., state/provincial, federal, raw/processed food rates, click on See the Advanced Tax Page in Adjust General Tax Rate.
3. When you set up prices for services and retail products, you can select one of the preconfigured tax rates.
Integrated in-store payment terminals
If you have enabled your CardConnect Clover terminal and updated your Merchant ID, you can start processing payments right away.
If you have enabled your Stripe terminal, here is how to process payments.
Online Payment & Credit Card Processing
In Credit Card Processing, you can activate credit card and online payment processing by log in to your Stripe account. It only takes minutes to set up a free Stripe account to start accepting payment today.
Once credit card and online payment processing is activated,
1. Your clients will be able to make a payment through the Client Portal. They can pay for open invoices or purchase any of your services. Once purchased, the account balance is instantly synchronized.
Online Booking > Portal Preview
2. Additionally, you can accept credit card payments instantly in PawsAdmin
From Search, you can navigate to a customer's profile page.
At the bottom of the customer profile page, you can find the credit card section.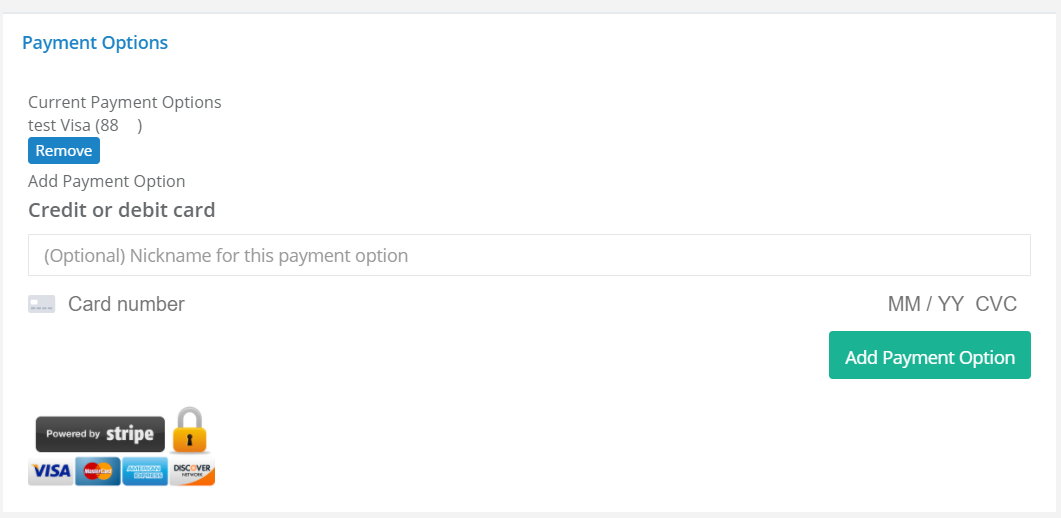 Once a credit card is added, on the invoice page, you can select the Online option as shown below, which will use the customer's credit card on file.
Note: You have full and independent control over the management of your Stripe account. We do not save credit card information in our database.
Accepted POS Payment Methods
If you are not integrated with our Online Payment and Credit Card Processing service, you can edit your accepted payment types in Accepted Payments.
When you close an invoice, select the correct payment type.
Note: It is good practice to check Today's Total to ensure the balance reconciles at the end of the day. Use our cash sheet to ensure cash balance reconciles at the beginning and end of each day.