From pictures, waiver signing, future appointments, to notes and history tracking, easy to manage Customer and Pet Profiles save you time and enable you to stay organized.
1. We've set up a sample walk-in pet profile. Search for "walk-in" and check it out.
2. Instant search throughout PawsAdmin
Throughout PawsAdmin, you can find a pet or customer by typing in partial keywords, such as pet name, customer first and last name, breed and phone number. Separate each partial keyword with a space, and you will see the drop down search results update as you type. Be sure to add pet pictures if that helps you find a pet as it will also show up in the search results.
3. Add customer and pet
Click on Add/View Records -> Customer to add a customer. Once added, go to Add/View Records -> Pet to add a pet for the customer. Once added you can find either the Pet or the Customer with the search bars at the top of every page. By clicking on the Pet or Customer from this search bar, you can view and edit their profile.
4. Customer agreement and waiver signing pad
If you'd like your customers to sign an agreement & waiver directly in PawsAdmin to save your workload, add an agreement & waiver from the Admin menu > Store configuration > Customer waiver signature. Once set up, after adding a customer, you will be directed to the signing page where you can ask your customer to review and sign the agreement. Once saved, the signature is saved in the customer profile page.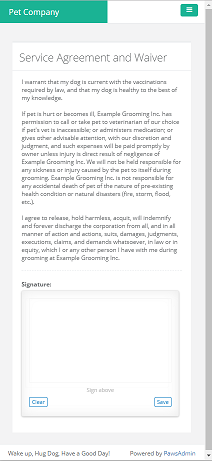 5. Pet image, paperwork upload
Click on edit from the pet profile to upload pet images, vaccination information, and other paperwork.
6. Track pet and customer info
Track vaccinations, customer details, vet info, authorized pickup and so on. You can enable and customize pet breeds from the Admin menu > Configure Breed List.
7. View upcoming appointments
View future appointment date and time in both the customer and pet profile page.
8. Payment and check-in history
Click on payment and check-in history. If the customer has a package, you can view package usage details and current balance. If your customers have questions regarding account balance, you can print and/or share this page with them.
9. Notes history
Add behavior, health, incident and other notes. Profile notes are shown at booking and check in to add important reminders and keep your staff aware of special needs and past histories of each pet.
10. Preferred kennels
If this pet has a preferred kennel, eg., a usual spot, a quiet kennel, and so on, you can add it here. At booking and check-in, you will find it listed under preferred kennel to assist with kennel assignment.