It's important to check out your customers quickly at the point of sale. Reduce your workload with the automated invoice generator at PawsAdmin. Here's how.
1. Automated invoices

At check-in, an invoice is generated for you if a balance is due. If the customer has a package one session will be deducted for you.
If the pet is checked-in for multiple services, you will find a line item for each service. If multiple family pets are checked-in, they will be included under one invoice instead of multiple invoices, simplifying the check-out process.
You can choose a package, add prices, and make other edits.
To add a service, simply choose the service type, such as retail, and fill out the details. You can search for a retail item by any partial keyword, or use a retail barcode scanner and the retail item will be added for you.
You can apply discounts, tips, unlimited split payment types, account balance, and so on.
You can save the ticket and go back to edit at a later time. Once the payment is complete, close the ticket, and you can find the payments included in today's total earnings. Make edits anytime to open or close tickets of the day. The admin account can also edit past tickets at any time.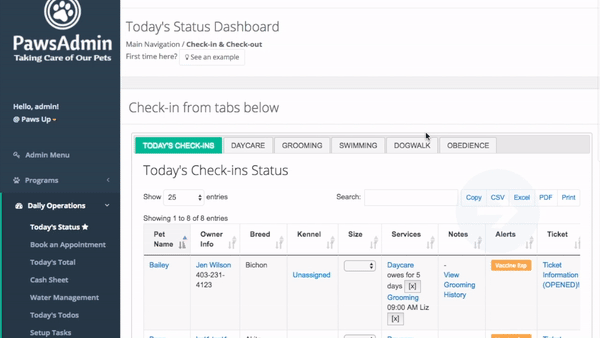 Read more about integrated credit card processing.
2. Manually create invoices

Alternatively, you can manually create an invoice at any time. A customer is required for all services except for retail. For services that don't require customer profiles, you can leave the customer field blank and the system will treat the record as a walk-in customer. Similarly to automated invoices, you can add unlimited services, split payments, promotions, tips, and so on.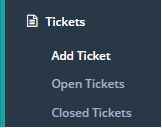 3. Your customers can pay online at the Customer Portal

In the customer portal, your customers can add a balance, and purchase a package directly online, saving check-out time. They can view their purchase and check-in history, and download receipts at any time.

Simplify your point of sale and take a load off your day with PawsAdmin.
Read more about online payments and credit card processing.